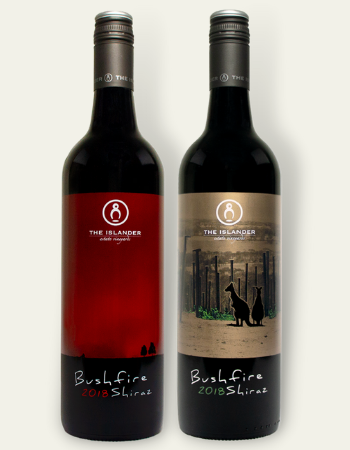 2018 Bushfire Shiraz
The bush-vines at our Kohinoor Hills Estate were 20 years old & produced some of the best Shiraz in the country. Our wines from these vines have rated up to 97 points in the Halliday Wine Companion. Unfortunately the 2020 bushfires were particularly harsh amongst our bushvines, so while we still wait in hope, it will be many years before we pick them again.
In light of the events of 9 January 2020 we decided to put this small quantity of exceptional quality Shiraz to an anniversary wine which would commemorate the day that changed the course of our business. And more importantly, that celebrates all we have overcome and acheived since that fateful day.
Hand-picked and destemmed, fermented in a mix of French oak & polymer eggs, aged in new French oak demi-muid & barique barrels. This is a wine that celebrates our committment to our original vision to showcase the true potential of Kangaroo Island wine to the world. A vision that is stronger than ever.
Our bushfire wine celebrates the tenacity, ingenuity & optimism that are the cornertone of our region's community. We look forward to our future making wine on Kangaroo Island & know this wine will be enjoyed for many years to come.
Proceeds from this limited release wine will do directly to rehabilition of our Estate, therefore no discounts apply.
Special Limited Release wine
Wine Specs
Appellation
Kangaroo Island