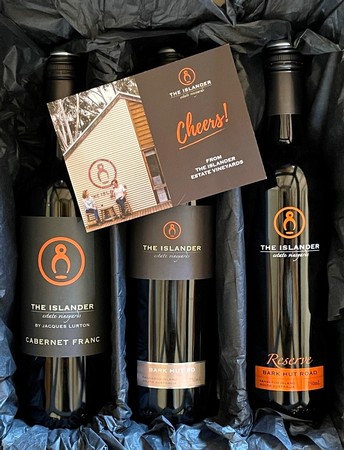 Gift Pack: Explore Cabernet Franc
One of Bordeaux's core varietals, Cabernet Franc is our flagship varietal. Our Explore Cabernet Franc pack includes single varietal & two different style blends, to show all the faces of Cabernet Franc. Gift packed & delivered with a personalised note anywhere in Australia.
2019 Cabernet Franc - Our signature varietal from Bordeaux in an every day drinking style. Cab Franc's leaner, herbacious style is a great match to a good steak dinner.
2019 Bark Hut Road Shiraz/Cab Franc - Taking its lead from classic Bordeaux blends, this blend is lean, elegant & savoury, blending the fruit of Shiraz with the herbaciousness of Cab Franc, with natural acidity, blackberry, vanilla & coconut oak notes. Super adaptable from braises like Beef Daube to a great cheese platter by the fire.
2016 Bark Hut Road Reserve Shiraz/CabFranc - Produced in a bolder, more fruit driven contemporary Australian style, it's hard to believe the same blend can produce such different wine styles. The fruit is hand-picked before being wild fermented in French oak. After a basket-press it ages in new French demi-muid barrels for two years before two years of bottle ageing. Delicate fruit notes on the start with amazing spiciness and soft fine integrated tannins to the finish.
Club Member Discounts Apply - simply login