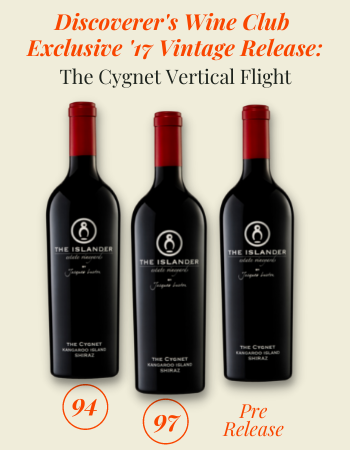 Member Exclusive: The Cygnet Vertical Flight
"Hand-picked bushvine vineyard, destemmed into demi-muids for wild fermentation and extended maceration on skins until mlf completed, the juice runoff and the skins pressed in a hand-operated basket press, blended after 2 years in demi-muids. An extremely complex and powerful wine with black fruits, spices, oak, tannins, earth and sea spray moulded into a single flame of flavour." Halliday Wine Companion.
Our mission is to put Kangaroo Island wine on the map amongst the best from Australia. So it was only a matter of time before we released an Australian style shiraz into our Flagship range to showcase that our cool maritime climate can produce truly stunning results.
2013 was the very first vintage of this powerful and elegant Shiraz. A big wine with firm tannins but still showing a supple character. Power and elegance is always the aim, a tightly- coiled wine with dark coffee notes supporting the freshest of fruit flavours like mulberry, plum, raspberry & cherry. As it opens, the classically spicy shiraz notes relax into a rose-petal softness.
This first vintage received a 94/100 score from the Halliday Wine Companion, so we knew we were onto a good thing. 2015 took it up a notch with a 97/100 score making it amongst the best in Australia.
Each of these vintages offer 15-20 years cellaring potential.
We are giving our Discoverer's Wine Club members special pre-release access to the 2017 vintage in this vertical flight pack, because this one could sell out fast.