Private Wine Experiences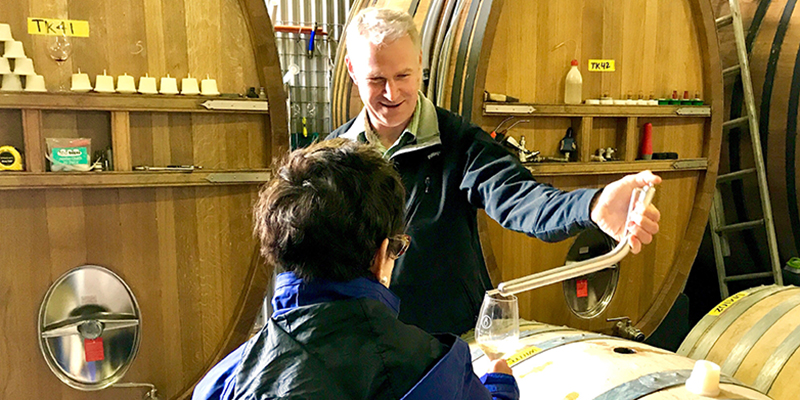 For an immersive wine experience, select a private experience
at our Tasting Room or Vineyard.
Private Tasting Selections:
We offer a selection of private exclusive experiences to make your time with us truly memorable.
Private Tasting:
Make a reservation for a private tasting experience and allow us to focus on providing you with an immersive 30 - 45 minute experience. $20/head, minimum of 4 people.
Flagship Range Tasting:
Take it up a level and experience the very best of Jacques Lurton's French influenced wines.
Our Tasting Room staff will guide you through our entire range including exclusive access to three flagship wines. Complimentary shipping to send your favourite wines home. $30/head, minimum of 4 people.
Gourmet on the Deck:
Take part a guided tasting of our Islander, Preservative-Free and Estate ranges. Then select your favourite wine and enjoy a bottle on the deck with a platter of regional gourmet foods. $55/head, minimum of 2 people.
Exclusive Vineyard Experiences:
Due to the destruction of our property in the January 2020 busfires,
vineyard experiences are temporarily unavailable.
We look forward to launching vineyeard regeneration experiences in the Spring.
For an exceptional insight into Jaques' world, take part in a private vineyard experience.
Vineyard and Barrel Room Tasting:
Visit our vineyard in the spectacular Kohinoor Hills for a private vineyard tour. Then relax in the barrel room with a platter of local produce and your choice of either a barrel sample tasting or Flagship range tasting.
Choose a favourite bottle of wine to take home* with our compliments or select your favourite dozen and enjoy 10% discount and complimentary shipping anywhere in Australia. $200 per person, minimum 2 people. *Complimentary bottle excludes flagship range.
Group Bookings:
Our Tasting Room offers an intimate space for couples and parties of 6 or less. If you have a group of 7 or more please book one of our private group tastings slots, available several times a day. We can offer your group a private tasting before or after hours in the tasting room or on the deck.
A group tasting fee of $100 up to 15 people includes a private tasting of up to 6 wines from The Islander, SoFar SoGood and Estate wine ranges. Our Flagship wine range can be added for an additional $20/person.