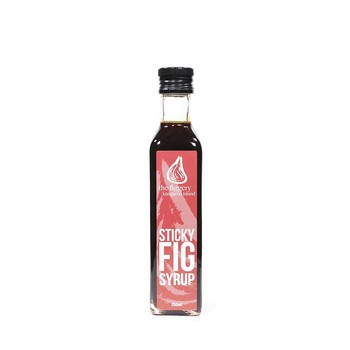 Sticky Fig Syrup
The Kangaroo Island Olive Oil Company and The Figgery are tucked away on the north coast of Kangaroo Island at Stokes Bay.
Dan and Sue Pattingale have been growing olives and producing award winning extra virgin olive oil for over 20 years now.
All products are grown and produced on their property, from start to finish. With a simply philosophy; produce the best they can using natural and organic farming methods, reduce our footprint on the planet, and nurture and improve theur immediate environment for the betterment of all things that inhabit this place.
Sticky Fig syrup is produced by cooking fresh figs in syrup with a final reduction to provide shelf stability. It has an indefinite shelf life and does not require refrigeration.
Sticky Fig Syrup is reminiscent of good maple syrup but what a difference! It is sweet and quite intense, and a little goes a long way.
You can use it as a stunning topping on vanilla ice cream, on pancakes, waffles, porridge, or mix a little with plain yogurt. It also has an affinity with grilled or roasted meat, especially pork, lamb, duck and game. Just a drizzle over the finished meat takes it to another dimension. Delicious drizzled over a soft cheese like a camembert or ricotta.