Meet The Islander Estate Vineyards Team

A French Wine Dynasty
The Lurton family's passion for viticulture and production of fine Bordeaux wine dates back to the 17th century. Today, they are one of Bordeaux's largest wine families.
Jacques and brother Francois led the international expansion of the Lurton family into other regions throughout Europe, South America and the southern hemisphere, with the Lurton flag flying over more than 30 vineyards worldwide.
Jacques Lurton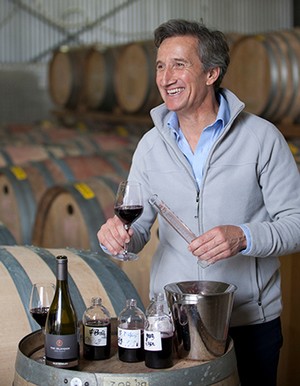 A fifth generation Lurton family winemaker, Jacques has become one of the world's best know flying winemakers. Learning his craft in Bordeaux at this family's Chateau La Louviere, he branched out on his own making wine throughout the regions of France, Italy, Spain, Portugal, Moldova, California and in South America in Uruguay, Argentina and Chile and of course, his second love behind France - Australia.
Jacques' experience in Australia approaches almost 30 vintages and began under the mentorship of Brian Croser (Petaluma) and Australian wine legend Len Evans, amongst others.
He visited Kangaroo Island with his wife in 1997, traversing every road of the Island, falling in love with the pristine natural environment, pioneering culture and seeing similarities with regions of Languedoc-Rousillon, Southern France, recognized the region had enormous untapped viticultural potential.
From a flying winemaker, spending 300 days a year travelling between vineyards in 8 countries, today Jacques takes a more laser-focused approach - spending his year split between his two winemaking loves, France and Kangaroo Island.
Yale Norris

Hailing from Colorado USA, Yale had a career with more corporate origins, working with tech giant IBM and as an entrepreneur, founding wholesale travel business Aussie Adventures. In 2011 Yale and his wife Maren sold their business and moved to Australia and Kangaroo Island to raise their family.
Yale and Jacques quickly connected and realised that their complementary areas of expertise and acumen were exactly what The Islander Estate Vineyards needed to take the business into the future on both the international and domestic stage.
Yale took over general management of the business in 2012 and invested in the business a few years later. After eight vintages, Yale's ability to quickly gain expertise in almost any area has helped him to gain virtually all he needs to know to cover his multiple roles as General Manager, Vineyard Manager, Viticulturalist, Mechanic, Winemaker and Sales Director.