Our Little Patch of Paradise on Kangaroo Island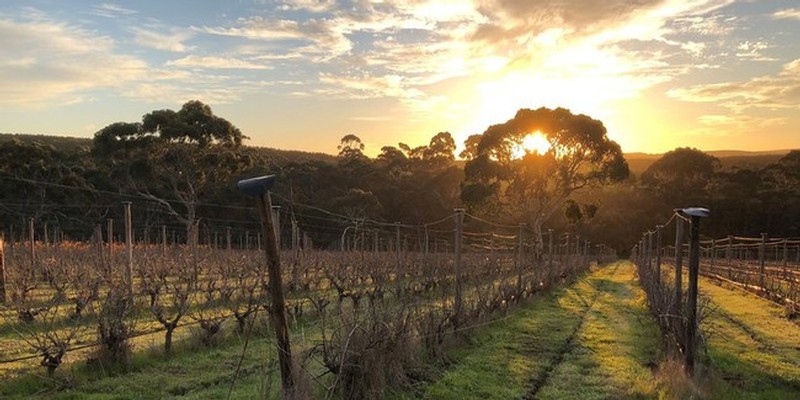 When Jacques first discovered Kangaroo Island, he fell in love with the natural environment and recognised the perfect cool-climate viticultural conditions the region presented. He saw that it came with interesting challenges - immense variation in terroir: soils, rainfall, aspect, all of which influence the resulting wine.
He selected a 280-hectare property in the the Kohinoor Hills near Kangaroo Island's farming heartland which offered a combination of agricultural and vineyard potential, ideal north-facing aspect and elevation along with vast tracts of heritage vegetation.
Jacques established a 11-hectare vineyard with varieties he enjoyed working with around the world - Cabernet Franc, Malbec, Sangiovese, Shiraz, Grenache, Viognier and Semillon. Close spacing (5,000 vines per hectare) with vertical canopy was chosen for all the varieties except Grenache and Shiraz, which were planted in bush vines. This close spacing of vines limits the yield per vine to achieve greater concentration of flavour and phenolic compounds. The aim for production is 1kg of grapes per vine, per vintage.
Soil:
The soils are friable which allow for easy vine root penetration. Pockets of clay help to retain water. The soils are quite similar to those of Fitou in Languedoc-Rousillon, Southern France. Catchment of up to 60 million litres of run-off water per year allows for irrigation.
Growing Conditions:
The vineyard receives Southern Ocean breezes which play an important role in the ripening process. Combined with sunshine crucial for ripening the grapes, the cooling maritime breezes protect the grapes from over-ripening on the vine and lead to much cooler night-time temperatures, giving the vines a much-needed break from the heat in the warmer months. Our slower, even ripening period facilitates excellent acid retention in the grapes.
Winery:
A modern 70-tonne winery was erected on-site with equipment imported from France including concrete open fermenters and a combination of large wooden vats and smaller barriques for ageing, settling and blending.