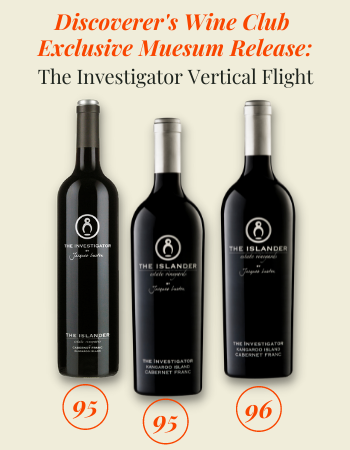 Member Exclusive: The Investigator Vertical Flight
Our flagship wine, The Investigator carries Jacques' vision for a flagship to sit amongst wines from the great regions of the world & etch Kangaroo Island onto the world map of wine.
Made from one of the greatest grape varieties, Cabernet Franc, this wine has been designed from vineyard to bottle to reflect the marriage of old & new world, strength & delicacy, power & elegance.
2005: The Cool Dry Vintage
The second vintage from our Kohinoor Hills estate, the weather was warm but very dry & cool. Grapes ripened in perfect condition with lower yields & small berries. Wine from this vintage were concentrated, full of fruit & tannins. We were very pleased with the quality & ageing potential.
"Hand-picked and sorted on a vibrating table, it is cold-soaked for a week before fermentation, and then spends three years in 600-litre oak vats, followed by another two years in bottle prior to release. The colour is still bright, fine and clear, the fragrant bouquet a mix of small berry fruits with nuances of earth, cedar and spice; fine, savoury tannins support the long finish. Includes 6% Sangiovese." 95/100 Halliday Wine Companion
2008: The Hot Vintage
The first vintage of The Investigator as 100% Cabernet Franc. 2008 was characterised by low rain followed by a long, dry ripening season with significant heat events. As a result, our Cabernet Franc matured quickly & was picked with higher baumé & lower acidic content than normal. In keeping with our winemaking philosophy, despite these unusual conditions, we left the wines with their natural balance.
The result was quite interesting, the wine is opulent, rich with very soft tannins. It has retained this amazing richness over time & it still drinks perfectly 14 years later.
"Jacques Lurton has always held a torch for cabernet franc, hence the plantings, and hence this wine. Still holds exceptional crimson hue; bright red fruits, bramble, and savoury tannins are in excellent balance, oak adding to the package." 95/100 Halliday Wine Companion
2012: The Ideal Vintage
Our 2012 vintage was the result of an ideal growing season with cool weather during ripeness & a beautiful Indian summer, which lead to an amazing harvest.
The balance between tannins, acidity & sugar provided perfect components to make the best wines possible. The wine was left on skins for an extended period & thanks to excellent acidic balance, the wines aged in barrel for 3 years without losing any freshness. The wine is drinking very well now & will remain great for a long time to come.
"Quite superb. Aristocratic. Luscious with both fruit and tannin, if a wine can boast such a thing, and as a direct result it feels impeccably well balanced. Grassy, licoricey tones to dark, curranty fruit. Pure power. Crackerjack." 96/100 Halliday Wine Companion