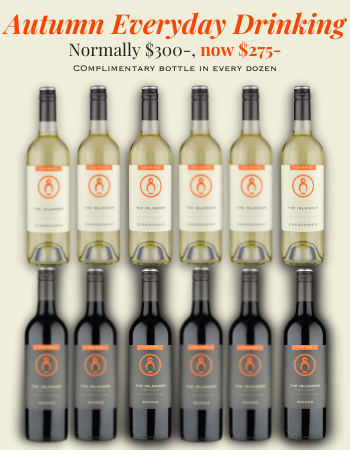 Autumn Everyday Drinking Dozen
Autumn brings warm days & crisp cool nights, so you want to cover your bases with white & red wines.
We've kept it simple & great value with our Autumn Everyday Drinking dozen - for those days when you want to walk through the door & crack a delicious bottle without making decisions.
Each pack includes a complimentary bottle, on us:
6 x 2020 The White Chardonnay: Contemporary Australian in style, made to demonstrate the elegant varietal character. Slightly toasty with flavours of peach, nectarine, melon and toasted nuts. The fruit sweetness is offset by steely, refreshing acidity and a long finish. This is a wine for all occasions.
6 x 2021 The Red Shiraz: Made from 100% elegant cool-climate Shiraz. On the nose, there's notes of pepper, eucalyptus, toasted vanilla. On the palate, it's seriously tasty with flavours in the mulberry and red fruit spectrum, a hint of charry oak and slightly gamey notes working beautifully with the fleshy fruit. It has a generous round mouthfeel leading to a lingering finish.