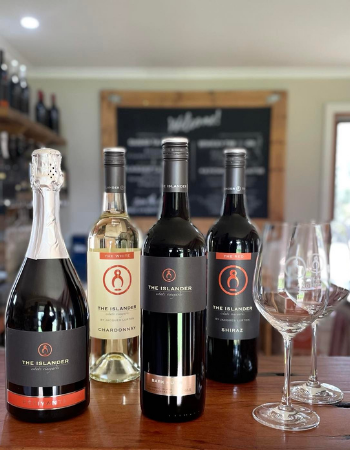 Discover Islander Estate Tasting Pack
If you love discovering new wine regions & small producers, our introductory tasting pack is a great way to dip your toe in the water.
We've selected four of our most loved wines from our varietal and premium estate ranges. The pack includes two complimentary wine glasses & free shipping anywhere in Australia. Save $60 on this offer not available anywhere else.
1. NV Petiyante Sparkling Chardonnay/Pinot Noir. Our method traditionelle sparkling from our European style Estate Range. "A playful sparkling in name and deed - Petiyante is a nod to the French word for bubbly. Lemon tart, baked apples, white florals and citrus zest is a good representation of the island's cooler climate. Bright on entry, the grapefruit and sherbety lift melds well with a sense of fresh-baked bread. Fine and steely." 92/100 Halliday 2021 Wine Companion
2. 2020 The White Chardonnay: In a contemporary Australian style, made to demonstrate the elegant varietal character. Slightly toasty with flavours of peach, nectarine, melon and toasted nuts. The fruit sweetness is offset by steely, refreshing acidity and a long finish. This is a wine for all occasions.
3. 2021 The Red Shiraz. A dip into our everyday great value wine range, made from 100% elegant cool-climate Shiraz. On the nose, there are notes of pepper, eucalyptus, toasted vanilla. On the palate, it's seriously tasty with flavours in the mulberry and red fruit spectrum, a hint of charry oak and slightly gamey notes working beautifully with the fleshy fruit. It has a generous round mouthfeel leading to a lingering finish.
4. 2018 Boxing Bay Shiraz/Cabernet Sauvignon: This is a classic Aussie blend, but like all the wines from our Estate range, our takes its inspiration firmly from Europe. While power and structure abound in the Cab Sauv, the Shiraz adds softness and elegance. A European approach to winemaking brings these two together with elegance and restraint. Drink now or cellar and reap the rewards. 94 points Halliday 2021 Wine Companion. 93 points USA Wine Enthusiast.