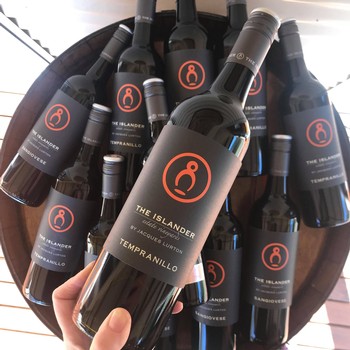 European Holiday Dozen
So many holiday plans have been put on ice this year. You may not be able to jump on a plane to Europe, but we can send your taste buds on holiday with this mixed dozen of our Italian, Spanish & French style wines. With complimentary delivery Australia-wide, each European Holiday dozen includes:
6 x 2019 Tempranillo
The newest member of our varietal range brings a little Spanish flair to the party. Jacques has worked with Tempranillo for over 25 years in the old world, so he was excited to find a small patch being grown on Kangaroo Island in Amercian River. The excellent fruit comes from a vineyard owned by our friend Michael Lane and we picked just a few tonnes by hand in early April.
Our first vintage of this wine is light crimson in colour and medium bodied wiht delightful tannins across the palate. In fact, you could easily mistake this for one of its cousins from the northern hemisphere.
Fun to make, we hope its is fun to enjoy with friends over your favourite tapas dishes.
5 x 2019 Sangiovese (95 points James Halliday)
When there are Italian flavours on the menu, our Sangiovese is the one to open.
Our 2019 vintage Sangiovese has all the hallmarks of this variety. This wine has inviting vanilla oak notes supported by subtle red fruit and hints of leather. A medium weight on the palate but full of flavour and texture with spicy notes of cherries and fine grained tannins on the finish. 2018
1 COMPLIMENTARY x 2018 Bark Hut Road Shiraz Cabernet Franc
Our signature Bordeauz style blend. One of the first wines Jacques' released from The Islander Estate, this 2018 Shiraz Cabernet Franc blend continues a long tradition of excellence.
This elegant Bordeaux-style blend offers firm tannins, natural acidity, beautiful blackberry and sarsaparilla notes at the darker end of the fruit spectrum with Oak notes – vanilla and coconut. It will age beautifully – up to 10 years and beyond