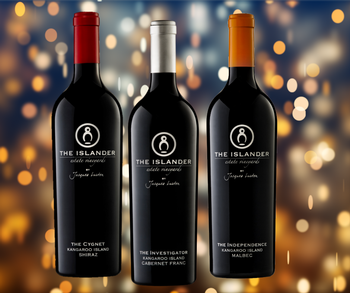 Ultimate Festive 3-Pack
If you love a true wine lover, then this is the way to show it! A bottle of each of our 2015 vintage Flagship range wines, all highly rated with excellent cellaring potential.
1 x 2015 The Investigator Cabnet Franc (95pts) - Demonstrating the true potential of this amazing Bordeaux variety.
1 x 2015 The Cygnet Shiraz (97pts) - No ordinary Shiraz, this is power and elegance in balance.
1 x 2015 The Independence Malbec (96pts) - Showcasing the traditional French variety Malbec, the only fruit grown on Kangaroo Island.
This 3-bottle box will be gift wrapped with tasting notes and sent to you for under the tree or shipped direct to your wine lover with a personalised card. Complimentary shipping is included anywhere in Australia.