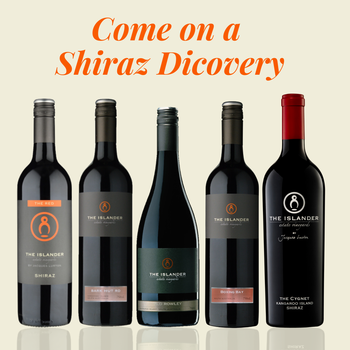 Shiraz Discovery 6 Pack
Whether you call it Shiraz or Syrah, this spectacular variety has captured the hearts of wine lovers across the world. Our range of Shiraz wines in single varietal and blends brings together classic French and Australian styles to suit every wine occasion.
Flagship Range: 2015 The Cygnet Shiraz: A complex & powerful wine with balance, composed structure & long fine tannins. On the palate, steeped black fruits, Christmas spices, oak, earth & sea spray. A special occasion meal, dark meats & spice-based dishes, roast beef or middle eastern lamb dishes.
Estate Range: 2018 Boxing Bay Shiraz/Cab Sauv: A classic Aussie blend in a whole new style. Power & structure in the cab sauv meets shiraz softness & European elegance. On the palate, cherry, blackberry, eucalyptuswith hints of toasted vanilla & cedar. Serve with chargrilled meats withpeppery or spice based sauces.
Estate Range: 2019 Bark Hut Road Shiraz/Cab Franc: Bordeaux's paired back elegance, with a soft texture & round medium body. Firmly structured with natural acid & sweet tannins. On the palate, vanilla, black plums, violets, capsicum, earthy savouriness & spice with hints of French oak.vvPair with classic French dishes like steak frites or a super ripe brie.
Estate Range: 2019 Old Rowley Shiraz/Grenache: Inspired by Côtes du Rhône, full flavoured, complex but elegant with firm tannins & a long finish. Deliciously ripe with dark cherry, black fruits, violets & confection. Pair with braised lamb or duck, hearty asian inspired beef ribs.
Varietal Range: 2019 The Red Shiraz: Medium weight in an easy drinking style with a round mouth feel & a lingering finish. On the palate, cherry, mulberry & red fruits, a hint of pepper, vanilla & toasted oak. Designed for every day drinking with barbeques, casseroles & burgers.
Club Member Discounts Apply - simply login