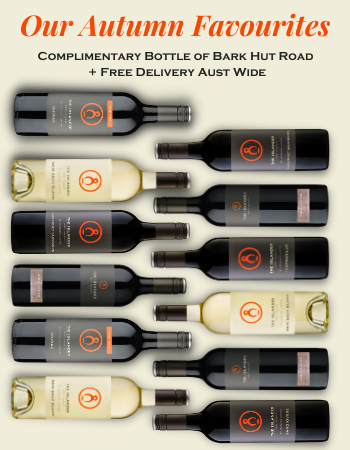 Autumn Favourites Dozen
With the crisp nights & warm days of Autumn on the way, our thoughts are turning to stocking up on wines for the change of season. Our team have chosen their favourite Autumn drop to suit whether you're enjoying them in the sunshine or by the fire.
Every dozen includes a complimentary bottle of 2019 Bark Hut Road PLUS free shipping anywhere in Australia:
3 x 2019 Semillon Sauvignon Blanc
2 x 2019 The Red Shiraz
3 x 2019 Bark Hut Road Cabernet Franc/Shiraz (incl complimentary bottle)
1 x 2019 Tempranillo
1 x 2019 Sangiovese
2 x 2019 Cabernet Sauvignon
Discoverer's Wine Club members receive additional member discount.