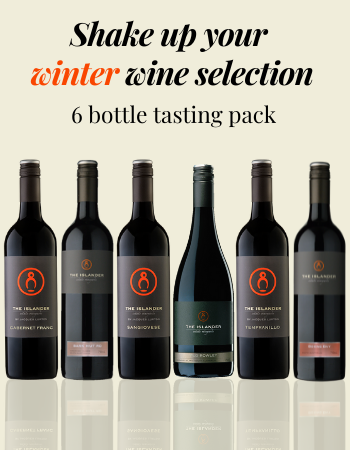 6 Bottle Winter Tasting Selection
Our delicious selection of winter wines, every bottle will take you on a different tasting adventure.

Varietal Range:
2019 Tempranillo - A taste of Español, medium bodied, juicy wine fine tannins. A perfect match for paella & tomato based dishes.
2019 Sangiovese - In the style of Chianti Classico, savoury tannins, red fruit & a hint of leather. Pair it with pizza & pasta.
2019 Cabernet Franc - Our signature varietal from Bordeaux in an every day drinking style. Cab Franc's leaner, herbacious style is a great match to a good steak dinner.
Estate Range:
2019 Bark Hut Road Shiraz/Cab Franc - Blending the fruit of Shiraz with the herbaciousness of Cab Franc, natural acidity, blackberry, vanilla & coconut oak notes. Super adaptable from braises like Beef Daube to a great cheese platter by the fire.
2019 Old Rowley Shiraz/Grenache - In the style of Burgundy this is all elegance & freshness rather than power. Supple raspberry & boysenberry flavours, lifted florals, vanillin oak & clove notes. Stunning with braises - beef ribs, duck, osso bucco.
2018 Boxing Bay - Shiraz/Cabernet Sauvignon blend taking inspiration from Europe. While power and structure abound in the Cab Sauv, the Shiraz adds softness and elegance. Enoy with chargilled meats with pepper or spice based sauces.