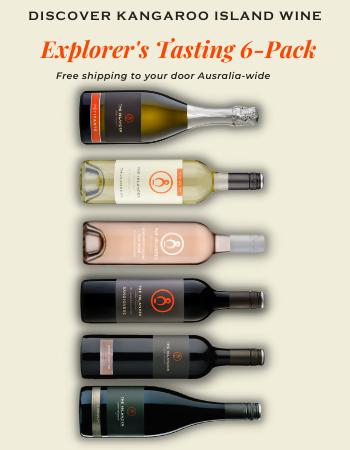 Explorer's Tasting 6-Pack
Our Explorer's 6-bottle Tasting Pack lets you explore the true potential of Kangaroo Island.
Each pack includes a single bottle of some of our most popular wines.
Petiyante Chard Pinot Noir: Pétiyante - it's French for bubbly! Our very first elegant sparkling wine in the traditional méthode Champenoise. 92 points Aust Wine Companion
2020 The White Chardonnay: Contemporary Australian in style, it's the Chardonnay non-Chardonnay drinkers love.
2020 The Rose: Our biggest selling wine, delicate & elegant, it's Provence in a glass.
2019 Sangiovese: When there are Italian flavours on the menu, our Sangiovese is the one to open. 95 points Aust Wine Companion
2019 Bark Hut Road: Our signature Shiraz / Cabernet Franc blend in a classic Bordeaux style. 93 points Aust Wine Companion
2019 Old Rowley: Our Shiraz Grenache blend. Discrete, complex, rich and completely delicious by the fire. 95 points Australian wine Companion
No other discounts apply to this offer. Available until 1 May 2021.