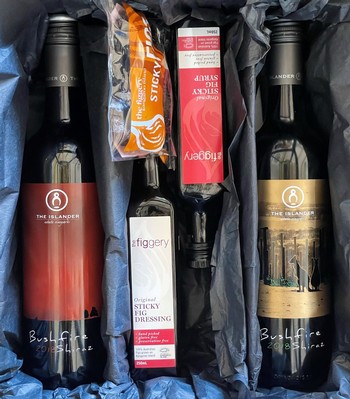 Gift Pack: Bushfire Recovery Wine & Produce Pack
Looking for a unique wine & produce gift, that gives pack? This gift pack includes two bottles of our collectors 2018 Bushfire Shiraz (with 100% of proceeds going back into the rebuild of our vineyard), along with delicious produce from The Figgery who were also severley fire impacted, we've included Sticky Fig Syrup, Sticky Fig Dressing & Sticky Figs for your cheese board.
Each pack is gift wrapped with a personalised note & includes complimentary delivery anywhere in Australia.
2 x 2018 Bushfire Shiraz - A special very limited-release wine to commemorate the first anniversary of the 2020 bushfires which devastated our vineyard. 100% Shiraz, hand-picked, destemmed & barrel fermented before being aged in French oak. One to save & savour to celebrate future vintages when the fires are just a dim memory.
1 x The Figgery Sticky Fig Syrup - Reminiscent of good maple syrup but what a difference! It is sweet and quite intense, and a little goes a long way. Use as a topping vanilla ice cream, on pancakes, waffles, porridge, or yogurt. It works well grilled or roasted meat, especially pork, lamb, duck and game. Delicious drizzled over a soft cheese like a camembert or ricotta.
1 x The Figgery Sticky Fig Dressing - perfect blend of Sticky Fig Syrup & Fig Wine Vinegar in a sweet but not too overpowering dressing. It has a delicious sharp finish that will complement a range of vegetables and meats, and it's also gluten and preservative-free.
1 x The Figgery Sticky Figs - Delicious as a treat just by themselves, excellent addition to a cheese platter, they combine particularly well with walnuts and almonds. Also great with cured meats such as prosciutto.