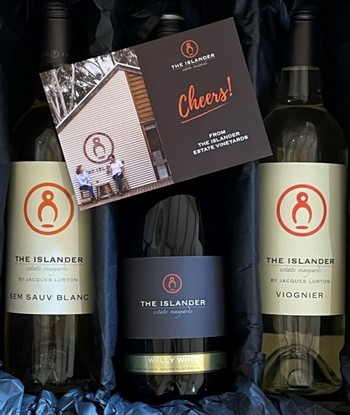 Gift Pack: Whites with a difference
A bottle each of three of our most distinctive white wines, gift packed & delivered with a personalised note anywhere in Australia.
2019 Semillon Sauvignon Blanc - Inspired by the classic Bordeaux blend, with hints of citrus & tropical fruit, a soft round palate from barrel aging & elegant acidity creating a long smooth finish.
2019 Viogner - One of our smallest batch wines, we produce a tiny quantity each year, but it is well worth it. It really shows how comples & stunning Viognier can be. Flavours of peach & orange notes, even a hint of candied ginger. A soft round mouthfeel & freshness to the finish.
2019 Wally White Semillon - Our sopisticated signature white wine, 95/100 points James Halliday. Rich & textural with mouth-filling notes of lemon curd & vanilla custard, bound together by mouth-watering natural acidity. Refined and elegant with excellent ageing potential up to fifteen years.
Club Member Discounts Apply - simply login