25 October 2021 | Winemaking and Viticulture | Cath Williams
A Year in Our Kangaroo Island Vineyard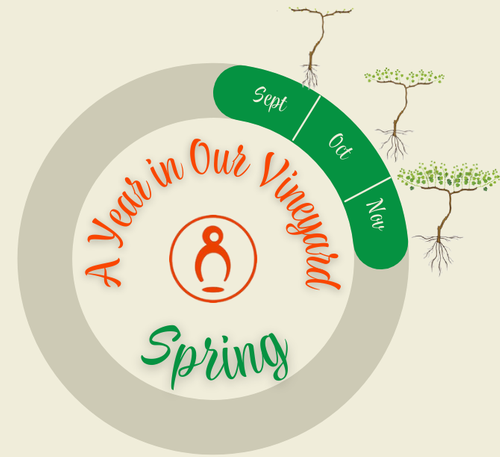 Our annual vintage may last just a few weeks, but it takes an entire year of hard work to ensure we are harvesting the best possible grapes.




Come with us for a guide to a year in our vineyard – one season at a time.
The growing season on Kangaroo Island
Thanks to the influence of the Southern Ocean & its prevailing south-easterly breezes, Kangaroo Island has a maritime environment significantly different to the rest of Australia, even to nearby McLaren Vale. These ocean breezes mean an even climate without extremes. They cool the vineyards in summer and keep it a few degrees warmer and wetter during winter, offering some protection from disease and frosts caused by extreme cold.
The annual cycle of a grapevine
The reliable annual growth rhythm of a vineyard is a reminder that nature will continue, no matter what variation or disasters might occur in a single year.
Kangaroo Island's native vegetation is perennially green. Its grasslands & crops thrive in winter, becoming a dry Mediterranean landscape in summer. Conversely, our vineyard works on an opposite calendar, becoming dormant in winter & bursting to life in Spring as much of the Island begins to dry and turn brown and is at its most productive at the end of a long dry summer.
Spring in our Vineyard
Budburst (late Aug/early Sept)
Budburst is the first sign of life in the dormant vines. The roots and wood of the vine release a surge of energy, the sap rises, and the buds begin to break through.
The woolly buds are extremely delicate during this time, so viticulturalist's prey for Spring frost to stay away. Luckily, our vineyard favours elevation & ocean breezes which largely protect cold air from settling & becoming frost.
Three factors impact the arrival of budburst. Firstly, the air temperature dictates the timing and pace of bud formation. Secondly, the variety, with each variety classified as early, mid, or late budding. Early budding varieties like Chardonnay tend to be more frost tolerant and often early ripening. Finally, the temperature of the soil plays a role in bud development.
Early Shoot & Leaf Growth (October/Nov)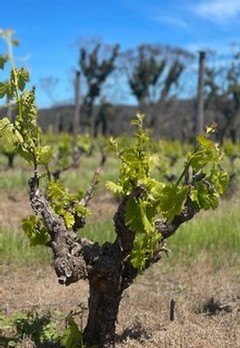 Once budburst is underway, growth starts to speed up, with shoots growing and leaves forming almost before our eyes.
Shoots are initially fuelled by the carbohydrate reserves fed up from the roots, but as leaves start to unfurl and mature, photosynthesis kicks into gear.
At this early stage of the growing season, it's important to ensure the vines have a good supply of water and nutrients, employing organic principles.
Our vineyard team gets busy thinning shoots, to ensure we have optimal selections and training the shoots where needed. Shoot thinning ensures the vine is concentrating its energy into the shoots selected for fruit production in line with our high-density, low-yield growing principles.
Flowering & Fruit Set (Nov/Dec)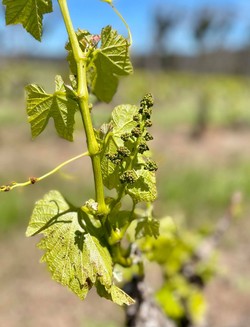 Next, flower buds will begin to form on the new growth in tiny clusters also known as inflorescence. Also known as 'perfect flowers', the grapevine flowers self-pollinate, bees are not required!
This is the time of the growing season when we pray for warm sunny days, moderate frost-free nights, gentle breezes and little or no rain.
These are the conditions for maximum self-pollination and pave the way for fruit set, the formation of tiny bunches of fledgeling grapes.
Once fruit-set is complete, grapes begin to form and this provides us with the first indication of the vintage to come.
Fruit-set provides us with the vintage potential but there are challenges to come as Summer approaches!
We look forward to continuing to share the journey to vintage as our growing season progresses.