15 February 2022 |
Yale Norris
As part of Wine Australia's US Market Entry Program, a range of our wines were recently reviewed by the Wine Enthusiast's rating panel. Wines from around the world are tasted by the Wine Enthusiast's expert tasting panel at their New York Office.
The tasting gives us the opportunity to test how our wines are received by USA wine experts, alongside some of the best from Australia & Europe.
We were really pleased to receive solid results. Our Estate wines were placed in the Highly recommended category, with one of scoring 93 points, a score awarded to less than 1% of all Australian wines tasted by the panel. Our everyday drinking varietal wines also scored in the good value, well-recommended category, exactly where we would place them. Check out the reviews & order a selection for your wine cellar.
Wine Enthusiast Rating Scale
| | |
| --- | --- |
| Classic 98–100 | The pinnacle of quality |
| Superb 94–97 | A great achievement |
| Excellent 90-93 | Highly recommended |
| Very Good 87 - 89 | Often good value, well recommended |
| Good 83 - 86 | Suitable for everyday consumption; often good value |
| Acceptable 80-82 | Can be employed in casual situations |
Dark purple at the core, this supremely ripe wine's nose bursts in aromas of cassis, oodles of menthol, Black Mission fig and Morello cherry. All at once sweet in fruit and savory in spice, this is a vibrant and slightly baroque wine in aromas and flavors. In structure, it is well-proportioned and seamless, leaving the taster to revel in the complex flavor dimensions. Creamy tannins are juxtaposed by roaring, refreshing acidity. The spicy finish recalls memories of walking through Istanbul's Spice Market. Buckle up, this is quite a flavor ride. Drink now–2026.
---
This is an energetic, engaging wine with tremendous aromatic appeal and racy palate lift. The nose shows distinctly different aromas with black peppercorn popping up first, followed by a refreshing herbal lift. The palate gorges on popping-ripe blackberry and blueberry fruits. The tannins are strapping but well-placed and the acidity is marked and vibrant. The medium-plus body is nicely weighty with solid extraction but no heaviness. Lovely now, this should evolve nicely in the coming years. Drink now–2025.
---
Sultry on the nose, with graphite and game dominating the blackberry undertones, the palate follows in the same vein. This is definitely one to decant. The palate opens up with time in the glass. Black plums, Dr. Pepper soda and dried wildflowers create a whirlwind of flavor with a solid caramel tone on the medium finish. That finish is also just a touch warm, but if the wine is served at cellar temperature, it will be fine with a hearty meal. The midpalate is a bit cherubesque, but it is nicely framed by sassy acidity and sculpted tannins. Drink now–2024.
---
This is a snappy, youthful and delightfully intricate white. It shows classic Sauvignon Blanc aromatic markers of ripe yellow citrus and fresh green beans while offering a solidly ripe core balanced by roaring acidity. Hints of sweet and savory spice grace the pretty fruit on the medium finish, which is flecked with crushed slate. Lovely now, this should hold nicely in the bottle for a couple more years. Drink now–2024
---
This wine is rambunctious and inviting on the nose. Generous in floral perfume, it also reveals honeydew melon, green gauge plum and toasty baking spice. Nicely rounded on the midweight palate, the buttery undertones are a bit domineering for the reserved, lighter fruit flavors that finish with moderate length. Still, the pleasant mix of tropical fruit and sweet spice influence is an attractive profile that will appease a wide sphere of consumers. Drink now–2024.
---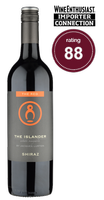 This wine's vivid aromas are a dance party for the nose. Sassy red and black cherries and plums pop out of the glass along with a spray of black peppercorns and an undercurrent of hard-stemmed herbs. The attack is a burst of perfectly ripened fruits with acidic verve and streamlined tannins. Nicely extracted but not unctuous, and neither cloying nor heavy, this shimmies across the palate with incredibly energetic, youthful fruit. Given the fairly fast finish, this crowd-pleaser is perfect for casual settings. Drink now–2024