15 May 2021 | Our Guides to Kangaroo Island | Cath Williams
Secret Autumn Sunset Spots on Kangaroo Island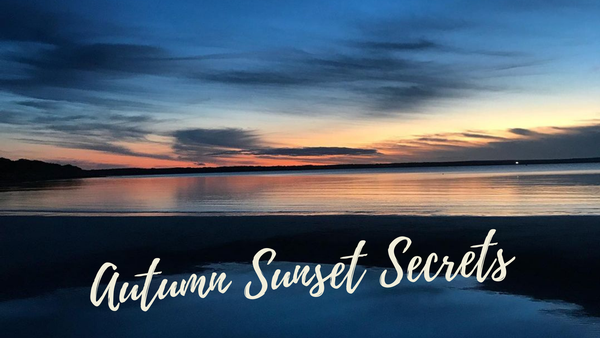 When Summer's warm weather passes & Anzac Day is over, visitor numbers to Kangaroo Island traditionally slow through the cooler seasons of Autumn & Winter.
This is the 'Islanders' secret – the cooler months are some of the most stunning on Kangaroo Island. Warm days, crisp nights, rain transforming dry paddocks to a vibrant green.
And our favourite part of Autumn? The light in the late afternoon and at sunset is magic. Autumn Sunsets are our favourite. We asked our team to share their favourite spots to end the day with a glass of wine.

---
Yale, General Manager, Managing Director,
Winemaker, Money Man, Wrangler of Staff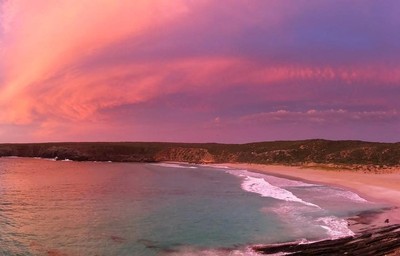 Favourite Sunset Spot? West Bay Beach, Flinders Chase National Park
"I love watching the sun sink behind the horizon into the southern ocean at West Bay. Sitting on the beach with a glass of wine, feeling like you're at the end of the earth. Such a secluded spot but still totally accessible to anyone willing to make the drive."
Favourite Sunset Wine? Wally White Semillon
"Our white wine for red wine drinkers. With enough creaminess & texture to go with a fire & some fish caught fresh from the beach & cooked in a pan with a little wine",
Image courtesy of Lauren Garret on Instagram
---
Sophie, Cellar Door Manager extraordinaire
Favourite Sunset Spot? Flagstall Hill Lookout, Reeves Point
"Just a few minutes from Kingscote, Flagstaff Hill is a stunning elevated spot for an evening walk to watch the sunset over Bay of Shoals. With elevated views for almost 360 degrees, there's no better place to let go of the day."
Favourite Sunset Wine? Varietal Range Semillon Sauvignon Blanc
"A limited release wine, this is my new favourite for when you want something a little more textural & sophisticated in the white wine spectrum. I've visited Jacques in Bordeaux & this reminds me so much of the Bordeaux Blanc blends that I tried there."
Image courtesy of Ross Evans Photography on Instagram
---
Luca, Cellar Door Hand, Tour Guide & resident Italian
Favourite Sunset Spot? The hill overlooking Stokes Bay
"Most people visit Stokes Bay in the height of summer to swim at the secret beach. We love to visit it in the cooler months, when it's almost deserted & the sunset views are ours alone"
Favourite Sunset Wine? Varietal Range Sangiovese
What else for an Italian? Taking its inspiration from a Tuscan Chianti Classico blend, the perfect pair to sunset picnic of antipasto, pizza or a great pasta dish.
Image courtesy of Carla Horton on Instagram
---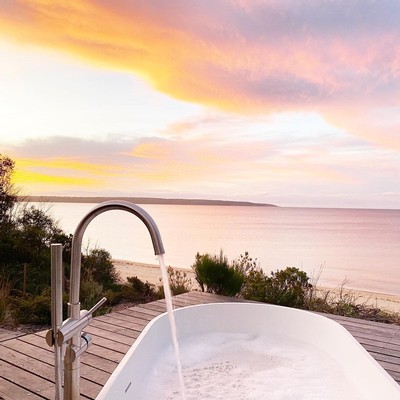 Sue, Cellar Door Hand, Luxury Accommodation Specialist, Farmer
Favourite Sunset Spot? One Kangaroo Island, Brown Beach
"There is no more luxurious experience on Kangaroo Island than sitting in a warm outdoor bubble bath on a crisp evening, in total privacy, overlooking Brown Beach & the sunset to the west. Unforgettable"
Favourite Sunset Wine? Petiyante
What else is there to drink in an outdoor bath at sunset than a delicious glass of Methode Champenoise sparkling?
Image courtesy of One Kangaroo Island on Instagram
---
Tracey, Our most loyal team member & wrangler of all things financial
Favourite Sunset Spot? Cygnet River
"In the late afternoon, just as dusk descends, the light through the trees surrounding the Cygnet River is something else. And it only happens during the cooler months. It makes you look up from your computer, step outside & take a deep breath."
Favourite Sunset Wine? Tracey's been drinking Bark Hut Road, Shiraz/Cabernet Franc, our signature blend for 15 years ago. It brings together our French & Australian heritage in a bottle & it suits just about any cool evening dish.

Image courtesy of Cath Williams on Instagram
---
Cath, Marketing & Story Teller
Favourite Sunset Spot? Baudin Beach
"My home, Baudin Beach. We live in a cottage snuggled behind a sand dune. Just near our house is a path along the cliffs with a special chatting seat in honour of a much loved local. After a long day on the keyboard, I can be there with a glass of wine, my partner, daughter & dog in just a couple of minutus, we all take a deep breath & let go of the day. Then back home out of the evening chill & into the warm cosiness of the fire."
Favourite Sunset Wine? "When I worked in the Tasting Room I sold more Old Rowley Shiraz/Grenache than any other wine because I absolutely love it. Elegant but robust, complex but drinkable. Simply one of my go-to blends & I'm yet to find one I love more than the one we make at The Islander Estate Vineyards."

Image courtesy of Cath Williams on Instagram
---
Plan your cool weather visit to Kangaroo Island now