27 May 2021 | Winemaking and Viticulture | Cath Williams
Close up on Chardonnay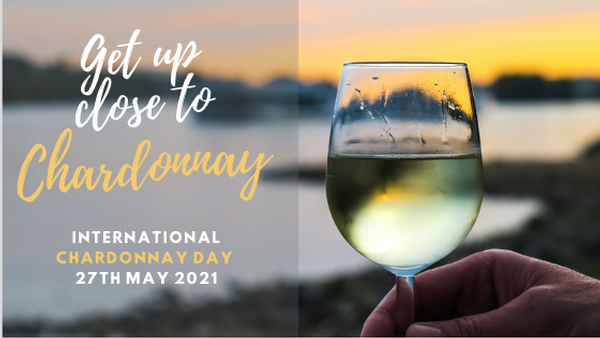 May 27th is International Chardonnay Day.
It's the most widely planted white grape variety in the world. And its time has come around again. So, let's get reacquainted with Chardonnay.
Chardonnay's Origins
Chardonnay's birthplace is the Burgundy region of France, in a small village of the same name. Chardon being the French name for a thistle, chardonnay's name originates from "place of thistles". Believed to be from the Noirien family of grapes, chardonnay is descended from Pinot Noir and the ancient variety Gouais Blanc.
In Burgundy, where chardonnay is known simply as white Burgundy, it is the most prized white grape variety, seen as truly capturing the region's incredible terroir. Although it originated in France, chardonnay is now grown in almost every wine region on Earth, mostly because of its ability to adapt to different environments and grow almost anywhere.
Chardonnay down under
Chardonnay was first bought to Australia by James Busby (widely known as the 'father of Australian wine') who planted the first cuttings to Australia in the 1830s. It didn't become a core Australian variety for almost a hundred years, but by the 1980's chardonnay became on of the most recognised Australian white wine varieties; flourishing in our climate and mainly produced in robust, rich, ripe and buttery styles.
Over the next several decades Australian wine consumers palates changed as they moved towards the zesty, higher acidity alternatives like Marlborough sauvignon blanc. Australian winemakers began to adapt, taking advantage of chardonnay's ability to take on many different characters guided by the winemaker's technique.
Today chardonnay accounts for more than half of Australia's white wine production, having a renaissance in a more lighter style closer to the Chablis style of France. This contemporary style has inspired The Islander Estate Vineyard's The White Chardonnay.
Chablis Style Chardonnay
Located in the Burgundy region of France (also famous for Pinot Noir), the Chablis appellation lies in the north, alongside the River Serein with the best vineyards planted along the south facing slopes. Chardonnay here is all about the terroir.
Forget all your preconceptions of oaky, buttery Chardonnay. The Chablis style is entirely different, some say this style is the purest form of Chadonnay, fermented in steel, usually with little or no oak so the Chardonna grapes' taste and arome can shine. The Chablis wine style is dry, lean, light-bodied with higher acidity and green apple, citrus and minteral notes.
At our Tasting Room two of our most common guests comments are "I don't usually really like chardonnay but this is really nice" or "Sauvignon Blanc is my go-to white wine, but this is really delicious".
Are you a champagne lover? Then you'll like Chardonnay.
Chardonnay is the main component of most champagne's (blended with its mother variety, Pinot Noir as it is in our Petiyante sparkling). And if you're a fan of Blanc de Blancs you're drinking a champagne made entirely of chardonnay.
Chardonnay's food companions
Our The White Chardonnay is designed for everyday drinking, we think it makes a phenomenal sunset glass of wine with friends or with a simple soft cheese, but there are loads of cool weather matches with chardonnay. Simply, chardonnay prefers subtle spices and creamy or buttery flavours with seafood, chicken or even port. Try it with a few of these classic Autumn dishes:
| | |
| --- | --- |
| | |
| Vegetable Risotto | Classic Roast Chicken |
| | |
| Garlic Prawns | Vegetable Soups |
Drink now or wait?
Contemporary unoaked styles just like our The White Chardonnay is made in an everyday drink now style but can happily hang out in your wine rack for two years. More heavily oaked examples offer more cellaring potential.
Get intimate with Islander Estate The White Chardonnay
Priced for everyday drinking, now is great time to get your hands on The White. Order a case, pay for 11 and we'll add the 12th on us. Click on the image below to add some to your shopping cart now.