21 May 2020 | Islander Estate Vineyards News | Yale Norris
Issue 3 of News from the fire ground: Regeneration flourishes
This week marked a milestone
for Kangaroo Island:
100 days since the January's Ravine complex
of fires were declared officially safe.
As Kangaroo Island moves towards winter, season breaking rains have arrived bringing new regeneration across our fire ravaged region.
Regeneration across the region
Seasons rains have broken across the region bringing green pasture grasses back into the parched and burned fields. Areas of native bush devastated by the fires have spurred regeneration, bringing a ground level blanket of green amongst the burnt treetops.
While there are still years of recovery ahead, the Island is collectively taking a deep breath at these signs of recovery.
A video this week by our great mate Craig Wickham of Exceptional Kangaroo Island was filmed in the Parndana Conservation park who borders and blends into The Islander Estate Vineyard's property. Craig is an expert and offers a great update on the regeneration in the park.
Renewal of our Estate
The rebuild of the Islander Estate property continues and Winter offers no reprieve. At this time, our Estate begins to come to life with winter rains. Our fields are beginning to fill with pasture and our neighbours, both also impacted by the fires, have ewes beginning to drop lambs. So, rebuilding our boundary fencing has become the critical priority with over 1,000 fence posts to be individually replaced and rewired.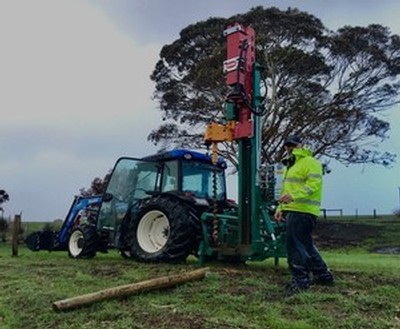 Yale has a reputation for being able to turn his hand to anything and working harder than anyone we know. And he's been proving this in spades, taking on the weeks (or months) long task of refencing one day at a time with our farmer neighbours Fox and Colin, regardless of the weather. Luckily, our brand-new fence post digger is making the task a little easier.
We are liaising with the Glossy Black Recovery Project to begin replanting essential habitat on our property for these endangered birds. Hopefully several thousand trees will be planted though winter.
Preparing the vineyard for winter dormancy
While the remainder of our property springs to life in Winter, in the vineyard we prepare for winter dormancy.
With the help of amazing volunteers from many organisations, we have placed the vineyard in the best position possible to hand over to Mother Nature during winter. We have seen reshooting across areas of the vineyard and vines producing tertiary fruit, however we will need to await Spring to gain a real indication of the vineyard recovery. We wait and watch.
Wines flowing freely
Our 2019 vintage wines are now all in bottle and ready for release over the coming months. In addition to new vintages of all our established wine we're excited to be introducing two brand new white wines and two red wines to our every growing varietal range.
Our Discoverer's Wine Club members have already had a pre-release sample of some of these wines and we'll announce release dates via our social media channels.
Explore our wine range
Free delivery Australia wide for orders of 6+ bottles, for a limited time only