7 April 2020 | Islander Estate Vineyards News, Our Guides to Kangaroo Island | Cath Williams
Our top 10 post-corona wine connections moments


10 ways our team will be reconnecting
over a few wines post "the rona"
If you're like us at The Islander Estate Vineyards, you're passing isolation-time dreaming of all the things you'll do as soon as we're free to move around as we used to.
And won't we all just appreciate the simple things so much more? This is our team's list of way's we'll be re-connecting with the people and the place we love.

1. At our heart centre


We had to start here. It's our passion to connect with visitors to our share stories,
our passions & a good chat over a glass of wine.
So many wine lovers from all over the world come to spend their precious holiday time with us learning a little about why Kangaroo Island is the world's undiscovered wine treasure.
We miss that connection dearly & can't wait to crack open our best wines for tasting and throw open the door to our Tasting Room. Next time you visit, treat yourself to a Flagship wine tasting.
2. Simple pleasures with family and friends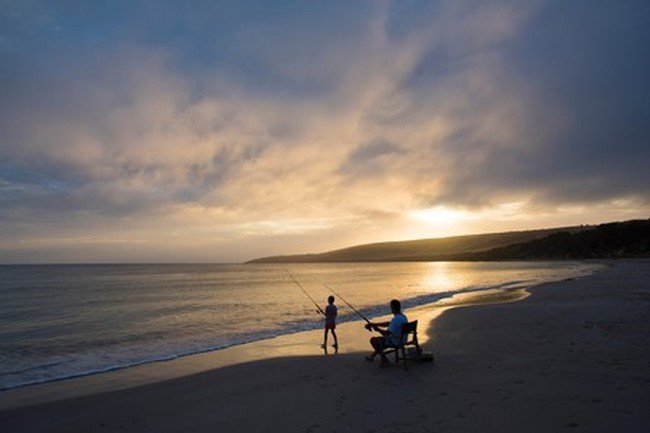 Is there anything better than the simple pleasures Kangaroo Island offers
like beach fishing while the sun sets?
Finishing a day on KI with fresh fish you've caught yourself is unbeatable. We love doing it with the people we love & a great glass of wine by our side (we recommend our Pinot Gris with local fish).
Our favourite spots for an evening fish? We'll it's hard to beat Snellings Beach on our stunning north coast, Brown Beach on the Dudley Peninsula (if you're lucky for a few flathead) or Emu Bay for a family favourite (park the car up on the beach, open the boot so you have somewhere to rest your wine & cheese platter).

3. Campfire Catch-ups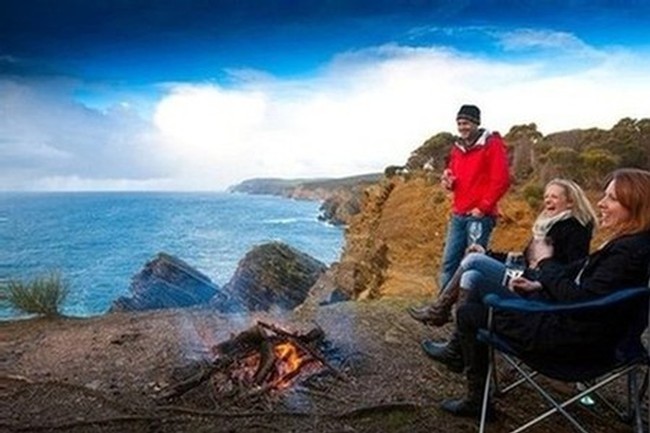 If you live on Kangaroo Island, or you love visiting,
it's pretty much assured you love camping.
With the cooler seasons coming on, we'll be packing up & heading out with friends with a bottle (or 10) of red and plenty of firewood to get us through the night - in our book the Majestic Plough Malbec is perfect for sharing with friends on cool nights.
Our top Kangaroo Island camping spots? Antechamber Bay campground where you can camp right next to the river & have a stunning beach just a few minutes away. Stokes Bay Campground with the fantastic Rockpool Cafe right next door & one of the best beaches on the Island. Vivonne Bay on the south coast to watch the surf roll in.
4. Over a meal at our amazing local restaurants


Dinner with friends - oh how we can't wait
With a selection of Kangaroo Island restaurants each showcasing local cuisine in their own unique way & we can't wait to get out & enjoy it with friends again.
Whether its refined cuisine & spectacular views at Sunset Food & Wine, rustic seafood at Rockpool Cafe, high end pub food at the Ozone Hotel, Italian fare at the intimate Bella Cafe or contemporary cuisine in peaceful surrounds at Reflections Restaurant in American River, just to name of few options.
5. Connecting to nature in our interior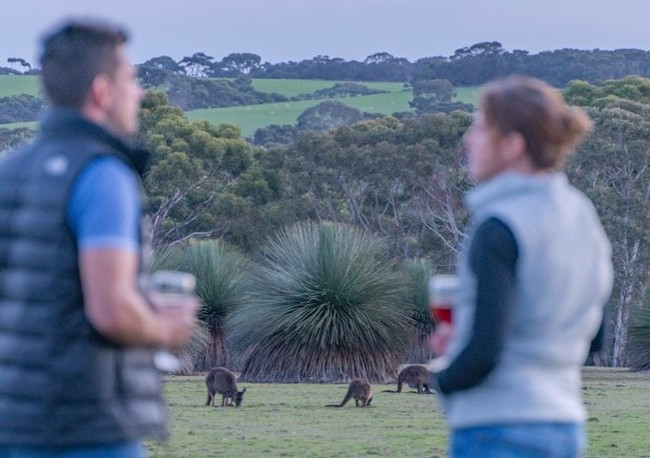 Kangaroo Island has spectacular beaches & coastline,
but the interior comes to life in the cooler months.
We love heading inland for a walk amongst nature - finished off with a picnic & wine of course! There are so many spectacular inland hikes across the whole Island, many remain open after January's bushfires & the regeneration of bushland will be spectacular as winter progresses.
Or book a weekend away at one of the Island's many nature-based accommodation like our wonderful friends at Ecopia Retreat, where nature is right on your doorstep.
6. Cool season weekends away with friends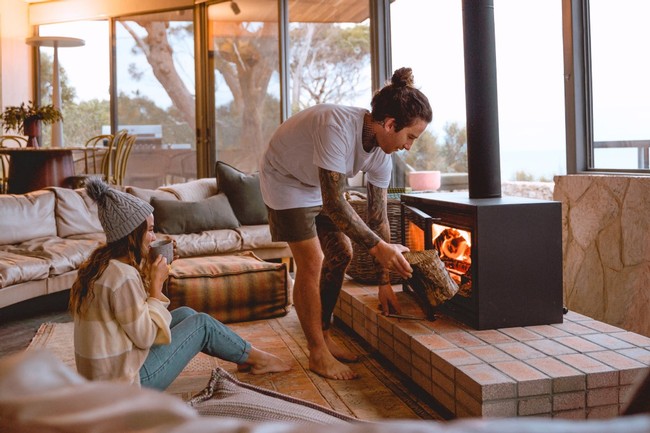 If you're a Kangaroo Island local, then you know
the cooler seasons are the best time on Kangaroo Island.
Fires lit all season, stormy walks on the beach, flora & fauna at their peak (& the best season for fishing). Plus, in these quieter seasons it feels almost like the Island is just yours. We'll be inviting friends to reconnect with a weekend (or week) on the Island.
If we're lucky we'll do it at spectacular accommodation like Hamilton & Dune - what a stunning place for long chats, board games & wine by the fire. Pop some local lamb in the slow cooker to simmer all day & pair it with the Old Rowley for a simple but spectacular shared meal.
7. Friday night sunset beach catchups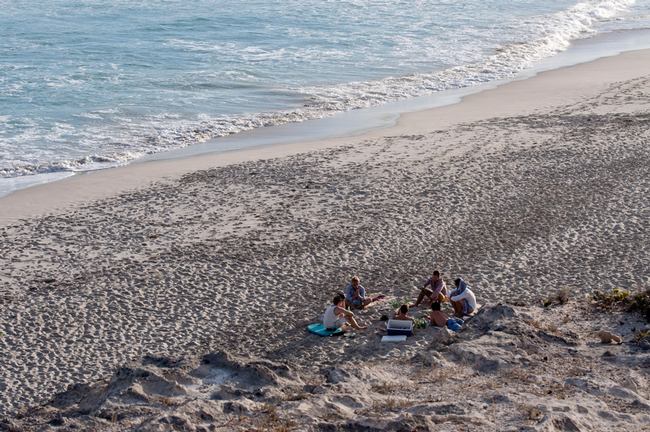 Friday night post-work wine on the beach - it's a Kangaroo Island ritual
Kids running wild in the surf, mates downloading news of the week. For Islander's it beats rush hour traffic & crowded bars hands-down.
Our absolute favourite for beach sundowners is The Rose but when even we can't get it, we turn to our other bestie SoFar SoGood Sauvignon Blanc all those tropical fruit notes suit the setting so well. Popular spots include Hog Bay Penneshaw, Island Beach and Emu Bay.
8. Sharing home cooked feasts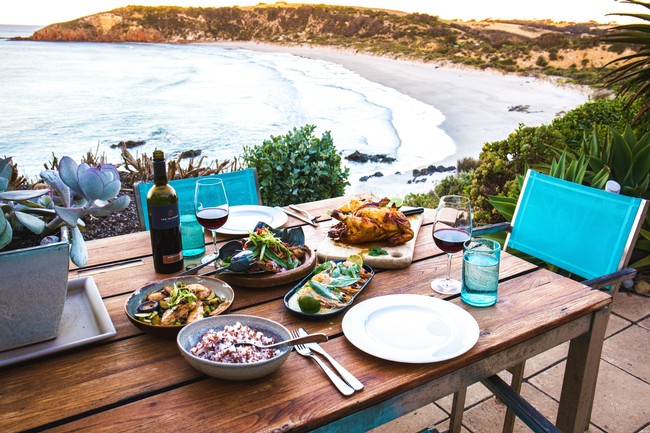 Who else is brushing up on their cooking skills during home isolation?
We can't wait to share all the new dishes we've learned with mates & family.
While we're all home cooking right now with our isolation-buddies, there's nothing like spending the whole day preparing a feast for extended family & friends.
It's an act of love that deserves some cracking wines to while away the afternoon (Bark Hut Road hits the spot & pairs with so many dishes). How spectacular is the spot at Lifetime Retreat's The Cliff House?
9. Family picnics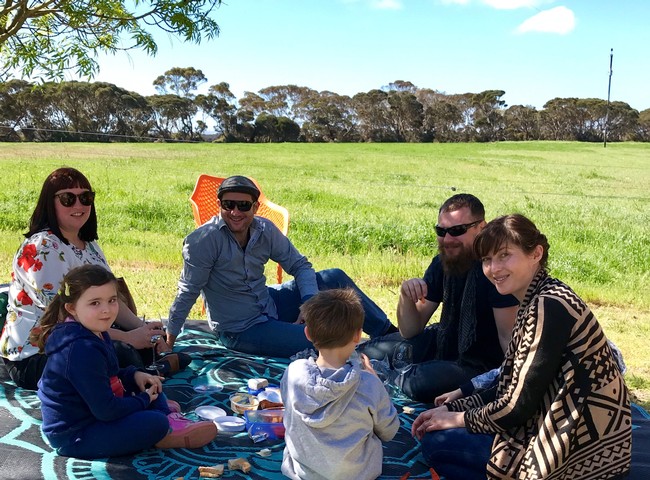 The simple act of sunshine, a picnic rug, friends or family & the shade of a tree
Don't we miss the simple things? For us picnics need be no further than the lawns of our Tasting Room.
But we also love putting together a picnic of French charcuterie from Les Deux Coq, Alexandrina Fleurieu Peninsula cheeses, local produce & wine for guests (SoFar SoGood Shiraz is our favourite picnic red), then sending them to our team's favourite picnic spots. Just a few minutes away from the Tasting Room in Cygnet River, Duck Lagoon is a great place to start.
10. Getting the team back together
What are we most excited about? Getting back to the business of wine.
Between January's bushfires & the current Coronavirus we're most excited about the prospect of having the full team back together at The Islander Estate Vineyards.
Later in the year we hope to begin welcoming guests back for private barrel room tastings & to see the vineyard rejuvenation. It's a prospect that drives us forward in our mission to make the region's best wines.
We thank you for support during this difficult time,
we appreciate every order we receive online &
we can't wait to connect over a wine very soon.