21 May 2020 | Winemaking and Viticulture | Cath Williams
What's (So Far) So Good about preservative free wines?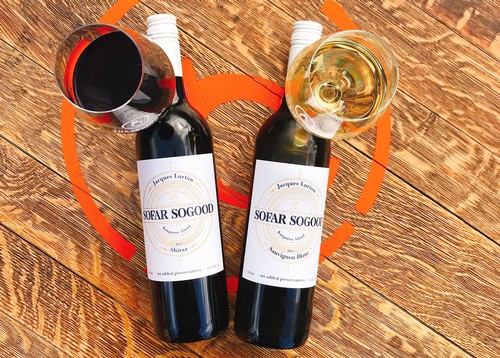 Every day in our Tasting Room we chat to guests interested in our preservative free wines. These days we're all a little more aware of ensuring we know what's in our food and wine, so join us for a closer look at preservative free wine.
Why make a preservative free range?
Our owner Jacques Lurton introduced the SoFar SoGood range around 4 years ago. After he found himself developing a reaction to the sulphites we find in many everyday foods and drinks. Chatting to friends and customers, he identified a growing trend in seeking out products with less preservatives and decided that his vineyard on Kangaroo Island was the ideal place to trial a no-added preservative wine range.
What is preservative free wine?
A small amount sulphur dioxide is released naturally by the grapes during fermentation (nature's own preservative) so all wine contains trace amounts of naturally produced preservative.
Wines labelled preservative free mean the winemaker has not added any preservatives during the winemaking process.
What preservatives are added to wine?
Wines generally contained sulphur dioxide (SO2), or you may see "sulphites added" on the label, this can mean S02 or HS03 (bisulphites) and H2SO3 (sulphurous acid). In Australia strict restrictions on the amount of sulphites are in place and where they exist in the wine labelling laws require it to be declared. This is not the case with wines from many countries outside Australia.
You will find these same preservatives in higher concentrations in many supermarket products including dried fruit, jams, candy, processed meats and many packaged foods. So if you react to these foods it may be an indication of a sulphite sensitivity.
Why are they used?
Sulphites have been used in wine since the early 1900s to help preserve the wine and slow down the deterioration process. It is used to get the wine into the bottle and to the drinker in the best condition.
Generally low or preservative free wines require pristine grapes in the best possible condition, handled carefully in the winery. Less faults with the grapes mean less (or no) sulphites are required.
Do Sulphites give you a headache?
Lots of guests our feel they can drink more of our preservative free wines without getting a hangover. Science indicates this is not the case but people with asthma are thought to be more likely to have a sulphite sensitivity and if you feel you react to any of other foods listed above it may be worthwhile giving a preservative free wine a try.
What's different about how we make preservative free wine?
The goal in producing preservative free wines is to use the utmost care and keep intervention to a minimum. For our SoFar SoGood range, nature does much of the winemaking with the winemaker playing supervisor.
The first step is to start with pristine grapes free of disease or bird damage. Then the grapes are handled carefully in the winery, kept cool and away from air as much as possible.
At The Islander Estate Vineyard, we pick by hand, destem and send the wine to tanks for ferment (by wild yeast for our Shiraz). We use temperature control and soft extraction during ferment phase, pressing the skins off early.
As soon as fermentation is complete, the wine is clarified, filtered and into the bottle within around 8 weeks of picking (even earlier for our preservative free Sauvignon Blanc).
Our SoFar SoGood range is designed to be enjoyed young as are most preservative free wines.
How are preservative free wines different to drink?
Because of the minimal intervention approach, we find our preservative free wines tend to tell a pure story of the fruit and vineyard. They are easy drinking, vibrant and packed with fruit flavours.
As well as people with sulphite allergies, we find the SoFar SoGood range appeals to wine lovers who enjoy fruit forward and well balanced but less tannic or structured wines (think Pinot Noir or Merlot lovers).