6 May 2022 | Food and Wine, Winemaking and Viticulture | Cath Williams
Take a fresh look at Sauvignon Blanc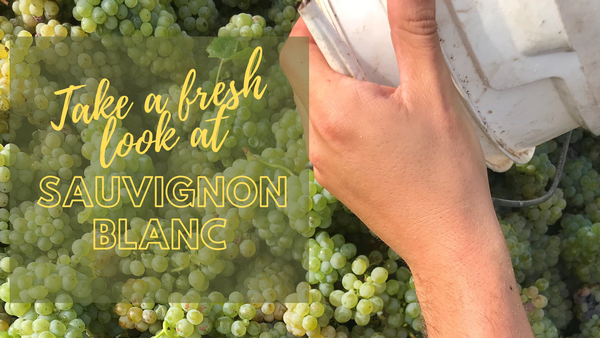 It's the white wine in almost every Australian wine fridge during the warmer months. Sauvignon Blanc may be popular but producing high-quality wine requires a skilled winemaker & impeccable timing.
With its huge rise in popularity in recent years, most Australian white wine drinkers have included Sauvignon Blanc in their wine repertoire. There is a lot to learn about this variety which can produce very varied characteristics with a careful winemaking hand.
Here are some facts about one of our favourite varieties you may not know:
It's no new kid on the wine block. Sauvignon Blanc originated in France in the 1500's the Loire Valley & Jacque Lurton's native Bordeaux, where it features in famous French wines like Sancerre and Pouilly-Fumé.
Sauvignon Blanc has a wild side. Its name comes from the French words' sauvage' meaning wild and 'blanc' meaning white.
Sauvignon Blanc in Bordeaux is most known as a major player in the sweet wine Sauternes.
Bordeaux's most famous white blend, Bordeaux Blanc, pairs Semillon & Sauvignon Blanc in the world's original Sem-Sauv-Blanc blends.
Believe it or not, Sauvignon Blanc is the mother of the robust tannic red wine variety Cabernet Sauvignon (Cabernet Franc is the father).
Sauvignon Blanc grows best in cool or maritime climates (both Bordeaux & Kangaroo Island feature maritime environments) where long, even growing conditions balance its crisp acidity with fresh fruit character.
Sauvignon Blanc was one of the first varieties to be described in terms of one of its dominant flavour compounds, methoxypyrazines. This compound is responsible for the Sauvignon Blanc's herbaceous nature, including characteristics like asparagus, cut grass, capsicum, dried herbs and gooseberries. Next time you taste wine with friends, drop this term!
Not all Sauvignon Blancs are the same. It can vary wildly based on where it's grown & winemaking techniques, so try a wide range of regions & styles.
It has an alias. Fumé Blanc –coined in California in the 1960s and popularized by Robert Mondavi. Fumé Blanc is Sauvignon Blanc. Sometimes aged in oak, giving it smoky notes (fumé means smoke), definitely one to try if you are looking for a more textural & complex Sauvignon Blanc.
Looking for foods that pair beautifully with Sauvignon Blanc? Easy, if a squeeze of lemon would enhance the dish, you'll be onto a winner serving them together.