27 December 2020 | Our Guides to Kangaroo Island | Cath Williams
Discover our neighbourhood - the Cygnet River gourmet trail
We chose to locate The Islander Estate Tasting Room in Cygnet River to join the growing and ever-changing community of artisan producers with values similar to ours - to showcase the true potential of Kangaroo Island.

And we've never looked back.
Sitting within easy reach for visitors, close to Kingscote and the south-coast touring route, the Cygnet River trail is compact making a great half or full-day discovery, including two distinct styles of wine, award-winning spirits and liqueurs and delicious food – all hand-crafted with a shared philosophy, and authentically Kangaroo Island.
Come spend some time with us & we'll introduce you to the neighbours!
The Islander Estate Vineyards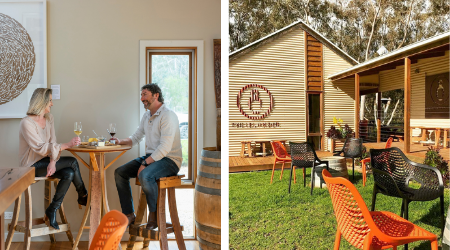 Let us take you on a wine discovery at our own intimate Tasting Room. Our hosted tasting experiences explore our handcrafted French-style wines by Bordeaux raised Jacques Lurton, who fell in love with Kangaroo Island over 20 years ago. He established his own estate-style vineyard and has been crafting wines here ever since.
After your tasting, select your favourite wine & build your own cheese & charcuterie platter to enjoy on the deck or lawn.
We have a range of experiences you can purchase or book ahead via our website: iev.com.au/Visit-Us/Explore-experiences.
Kangaroo Island Spirits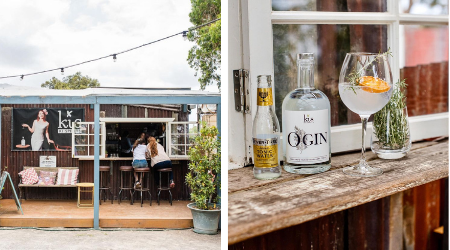 A visit to the Kangaroo Island Spirits cellar door is a must for any visitor to the Island (KIS to the locals).
Having won more than 130 awards including Best Gin in Australia, and most recently an array of high accolades from competitions in London and California.

KIS embrace native ingredients and use traditional processes to make spirits in their purest form, that have so much more to them. Their rustic cellar door offers tastings, sales and delicious seasonal cocktails to enjoy in the botanical Gin Garden. Their tasting paddles are very popular & a food van serves just the kind of delicious treats you want with cocktails.
Discover KIS & book your experience: kispirits.com.au
Springs Road Wines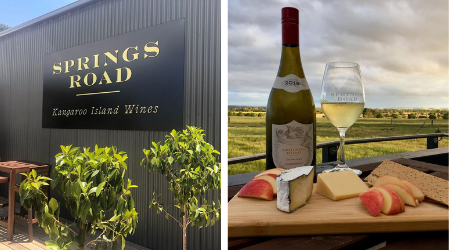 We were so excited when Spring Road Wines joined us in the Cygnet River neighbourhood. Kangaroo Island has a truly diverse range of wine styles, with something for everyone, so add a stop at Springs Road Wines to taste and enjoy the view at the newest cellar door in Cygnet River.
In 2016 McLaren Vale locals Joch Bosworth and Louise Hemsley-Smith bought the Springs Road vineyard (planted between 1994 and 2000), recognising that the property was an amazing site capable of producing beautiful wines.
Have a tasting then relax on the deck with a wine a delicious Second Valley Cheese platter made by one of their own team. Discover Springs Road Wines now: springsroad.com.au
Frogs & Roses Garden Centre & Cafe

If you need to take a break from wine & spirits, there's no betterplace inside the picturesque Frogs N Roses garden centre. Sit in the gardens with a snack or one of their amazing desserts & a cup of tea before you get back in the tasting trail.
Check out their opening times: Discover more: facebook.com/CafeScrumptiouski
Just a little further afield:
If you have a little more time, there is so much more to see and do all within 10 minutes of Cygnet River:
Kangaroo Island Brewery



Hand-built beers in a fantastic 'brewery door' on the way to Emu Bay. Stop in for one of their famous beer paddles to try a range of brews or pick your favourite to enjoy overlooking the field. It's one of our favourite watering holes. Check them out: kangarooislandbrewery.com.au
Emu Bay Lavender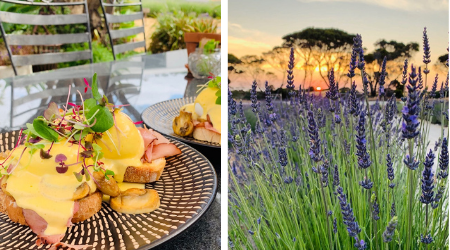 Closer to Emu Bay, the Lavender farm is one of our favourites for breakfast or lunch and a great spot to pick up gifts for friends and family back home. We highly recommend their amazing scones and lavender jelly for afternoon tea - the perfect refuel for after a swim. Explore more: emubaylavenderfarm.com
Emu Bay Beach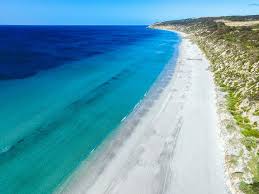 Kangaroo Island is spoilt for choice when it comes to beaches, but they don't come much longer, whiter & more beautiful than Emu Bay beach. A huge favourite with locals over summer for its stunning sands and safe swimming waters.
The Mini De Lights van at the Emu Bay boat ramp serves up cocktails, wine & delicious snacks in season - a truly unique Kangaroo Island experience. Check their facebook page for opening days & times: facebook.com/minidelightscatering