22 December 2021 | Food and Wine, Our Guides to Kangaroo Island | Cath Williams
What's new on Kangaroo Island this Summer?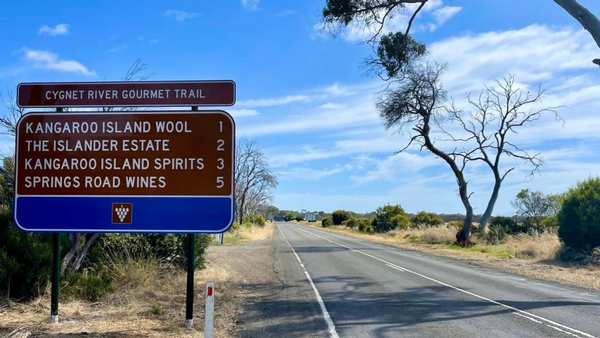 Heading back to Kangaroo Island for the Summer holidays? There are some fantastic new experiences to be had. We're sharing our favourite new things to see, do, taste & sip.
Whether it's your first visit or Kangaroo Island is your second home, our Cellar Door Trail guides help you plan out a day that has something for the whole gang to enjoy - click here to explore & download our handy trail maps.
Guess Who's Back for the Summer Season?
The Enchanted Fig Tree: Gastronomo is relaunching The Enchanted Fig Tree experience at stunning Snellings Beach on Kangaroo Island's North Coast. One of South Australia's most memorable dining experiences from the moment you arrive. You will be invited to venture through the leafy entrance of a majestic old fig tree before it opens up into a collection of natural 'living' rooms. Each space is decked out with stunning table settings ready for you to experience a magical feast of the senses. The season runs from 16 December 2021 until 4 April 2022. Bookings: www.gastronomodining.com.au
Sunset Food & Wine: Kangaroo Island foodies are doing a happy dance that Jack Ingram & Vanessa Chu are reopening the east end's icon restaurant for the summer season. A modern bistro focusing on local produce, Sunset Food & Wine combines stunning views overlooking American Beach, a killer wine list & elegant dishes that are a work of art. The season runs from 14 December until early April. Bookings: www.sunsetfoodandwine.com

New in Town
Home Grown Pantry on the Cygnet River Gourmet Trail: Our neighbourhood in Cygnet River just got a little more delicious with Home Grown Pantry at Frogs & Roses garden centre. Whether you want a lunch stop between wine & spirit tastings, a picnic lunch to take to nearby Duck Lagoon or to stock up on holiday provisions, it's all delicious & homemade. Opening days & hours do vary, so check out their Facebook page before your stop in: www.homegrownpantryki.com.au.
The Shy Wren, Penneshaw: The team at The Shy Wren are kicking off 2022 in style with their NYE opening. This wine bar /kitchen /providore will be a great addition to the east end. Keep an eye on their socials for more info on opening days & offerings: www.facebook.com/theshywren.
The Odd Plate, Kingscote: Quickly becoming the favourite dinner haunt in Kingscote. Located in a charming heritage guesthouse built-in 1927, overlooking the beautiful Napean Bay in Kingscote, offering a shared plate concept with a menu receiving rave reviews. Bookings: www.theoddplate.com.au

New Ways to Experience Kangaroo Island
Cellar Door Touring: Let a local do the driving; there's a range of local guides now offering unique cellar door trail experiences. One of our favourites is hosted by our team's own Luca Lovison at Kangaroo Island Hire A Guide: https://kiguide.rezdy.com/415123/gourmet-food-wine-tour
Gin, Wine & Wildlife E-Bike Tour: Exceptional Kangaroo Island are constantly innovating new ways to connect visitors with Kangaroo Island. Their Gin, Wine & Wildlife E-Bike tour is a one-of-a-kind & a new discovery for even regular visitors: www. kangarooislandebikes.com
Walk this way: Also from the team Exceptional Kangaroo Island, Walk Kangaroo Island consists of 11 diverse independent walks, exploring a range of island landscapes and habitats, each with its own unique story. If slowing down & reconnecting with nature is your aim, this is the experience for you: www.walkkangarooisland.com

Coming Soon:
Kangaroo Island Wool at Cygnet River: We are so excited to be welcoming Kangaroo Island Wool to the Cygnet River trail in early 2022. They have been championing local wool for many years. Their new venture will bring visitors to KI in touch with our agricultural heritage with wool garments handcrafted on-island from the sheep to the lucky wearer. Keep an eye out for announcements on their opening date: www.facebook.com/KangarooIslandWool