21 May 2020 |
Cath Williams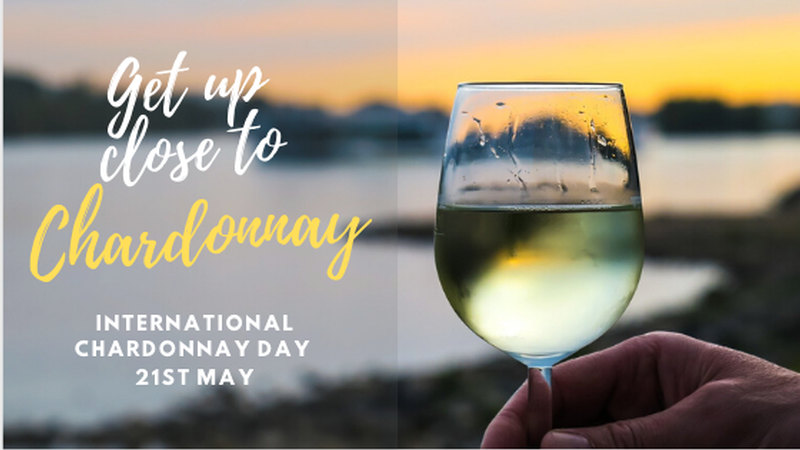 May 21 is International Chardonnay Day.
It's the most widely planted white grape variety in the world.
And its time has come around again.
So, let's get reacquainted with Chardonnay.
Chardonnay's Origins
Chardonnay's birthplace is the Burgundy region of France, in a small village of the same name. Chardon being the French name for a thistle, chardonnay's name originates from "place of thistles". Believed to be from the Noirien family of grapes, chardonnay is descended from Pinot Noir and the ancient variety Gouais Blanc.
In Burgundy, where chardonnay is known simply as white Burgundy, it is the most prized white grape variety, seen as truly capturing the region's incredible terroir. Although it originated in France, chardonnay is now grown in almost every wine region on Earth, mostly because of its ability to adapt to different environments and grow almost anywhere.
Chardonnay down under
Chardonnay was first bought to Australia by James Busby (widely known as the 'father of Australian wine') who planted the first cuttings to Australia in the 1830s. Chardonnay didn't become a core Australian variety for almost a hundred years, but by the 1980's chardonnay became on of the most recognised Australian white wine varieties; flourishing in our climate and mainly produced in robust, rich, ripe and buttery styles.
Over the next several decades Australian wine consumers palates changed as they moved towards the zesty, higher acidity alternatives like Marlborough sauvignon blanc. Australian winemakers began to adapt, taking advantage of chardonnay's ability to take on many different characters guided by the winemaker's technique.
Today chardonnay accounts for more than half of Australia's white wine production, having a renaissance in a more contemporary style closer to the Chablis style of France. This contemporary style has inspired The Islander Estate Vineyard's The White.
Chardonnay's Characteristics
Chardonnay's adaptability doesn't stop in the vineyard. It is just as adaptable in the winery, making it a favourite with winemakers. It is often said chardonnay is made in the cellar rather than the vineyard. It can be found in a wide range of styles depending on the growing region, picking stage and the crafting techniques used by the winemaker.
Chardonnay's Primary Flavours: Cool climate versions tend to be lighter in body with higher acidity and more subtle flavours of citrus, apple, pear, and peach. Warm climate versions are generally more full-bodied with richer, riper fruit and bolder flavours often in the tropical fruit zone like pineapple, mango or passionfruit. Chardonnay can also show some floral character like honeysuckle and jasmin.
Chardonnay's Secondary Characters: Winemaking processes like oak fermentation or aging impart a range of secondary notes, like coconut, vanilla and baking spices like cinnamon and nutmeg. The buttery characteristics of aged chardonnay come from malolactic fermentation, which winemakers use to reduce the perception of acidity and create rounder, creamier lactic acid, with buttery, vanilla, or pastry characters.
Are you a champagne lover? Then you like Chardonnay.
Chardonnay is the main component of most champagne's (blended with its mother variety, Pinot Noir as it is in our Petiyante sparkling). And if you're a fan of Blanc de Blancs you're drinking a champagne made entirely of chardonnay.
Chardonnay's food companions
Our The White Chardonnay is designed for everyday drinking, we think it makes a phenomenal sunset glass of wine with friends or with a simple soft cheese, but there are loads of cool weather matches with chardonnay. Simply, chardonnay prefers subtle spices and creamy or buttery flavours with seafood, chicken or even port. Try it with a few of these classic Autumn dishes:
| | | |
| --- | --- | --- |
| | | |
| Vegetable Risotto | Classic Roast Chicken | Creamy Pasta Dishes |
| | | |
| Garlic Prawns | Vegetable Soups | Grilled Fish |
Drink now or wait?
Contemporary unoaked styles just like our The White Chardonnay is made in an everyday drink now style but can happily hang out in your wine rack for two years. More heavily oaked examples offer more cellaring potential.
Get intimate with Islander Estate The White Chardonnay
Priced for everyday drinking, now is great time to get your hands on The White, while our free shipping offer for orders of 6 or more bottles ends 31st May. Click on the image below to add some to your shopping cart now.